Thresher Pad
Regular price
$250.00 USD
Regular price
Sale price
$250.00 USD
Unit price
per
Sale
Sold out
Introducing the Thresher Pad by Darko Lifting, designed with incredible features to enhance your workout experience. The Thresher Pad fills the need for a spotter based lat pull down seat as well as working as a chest support for exercises such as dumbbells rows, reverse chest flyes and much more. 

Made for 3x3 spotter arms with 1in holes. 
Darko Lifting recommends the use of Magpins with the Thresher. 
Current ship time is 3-4 weeks. 
Five adjustable angles: Enjoy the freedom to rotate the Thresher Pad to 0, 15, 30, 45, or 60 degrees, allowing for a wide range of exercise variations and targeting specific muscle groups with precision.
Pad Dimensions: 8.5in x 13in. Thresher weighs 10LBS.

Rugged steel construction: Made from durable .187in steel, this pad is built to withstand the toughest training sessions, ensuring long-lasting performance and reliability.
Sleek powder coat finish: The Thresher Pad features a wrinkle black powder coat, providing not only a stylish look but also protection against wear and tear, enhancing its durability.
Custom grippy seat pad: Designed with your comfort in mind, the Thresher Pad comes equipped with a custom grippy seat pad, offering superior traction and support during your workouts.
Seat liner to protect spotters and uprights from scratches. 
Made in America: Darko Lifting takes pride in producing the Thresher Pad right here in America, ensuring exceptional quality and supporting local manufacturing.
The Thresher Pad by Darko Lifting is a testament to our commitment to providing you with the best fitness accessories. Elevate your workouts, enjoy unrivaled versatility, and experience unparalleled comfort with this remarkable accessory. Get your Thresher Pad today and discover the difference it can make in your fitness journey.
Darko Lifting recommends the use of Magpins with the Thresher. The Thresher does not ship with Magpins or hitchpins. 
Share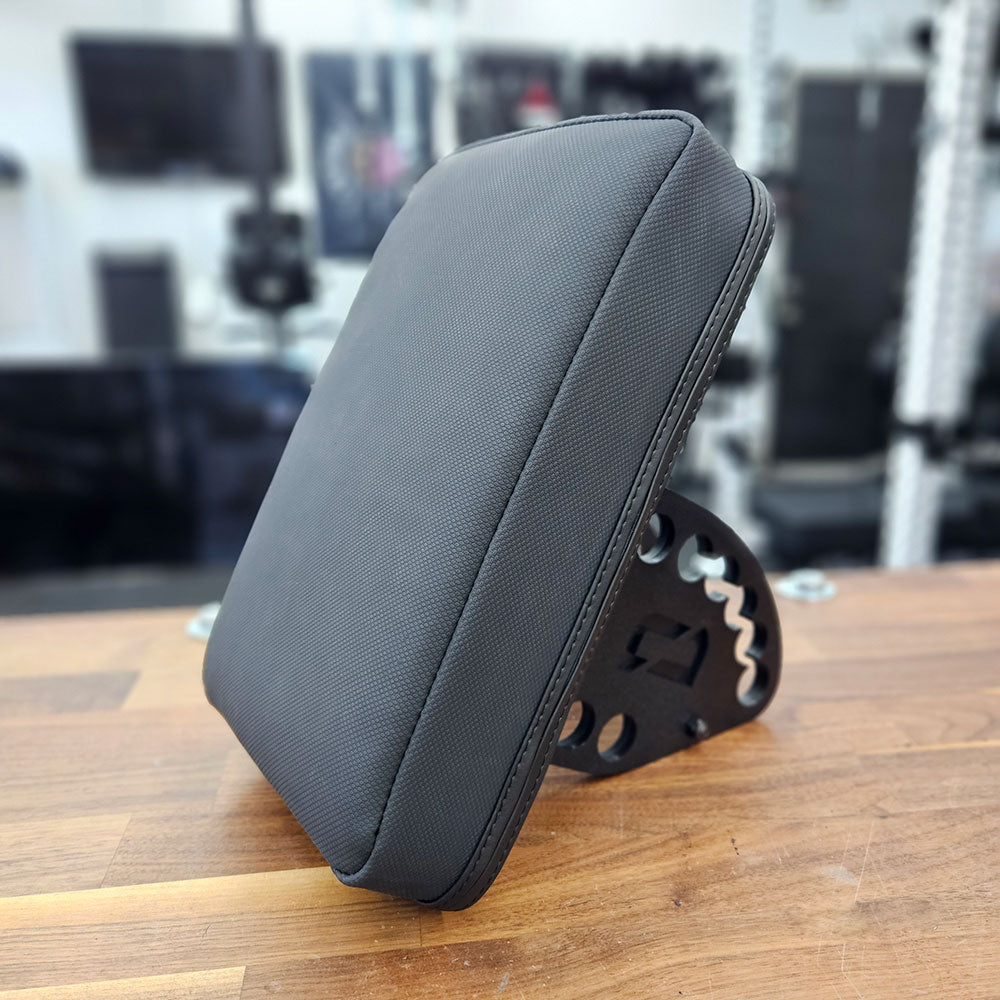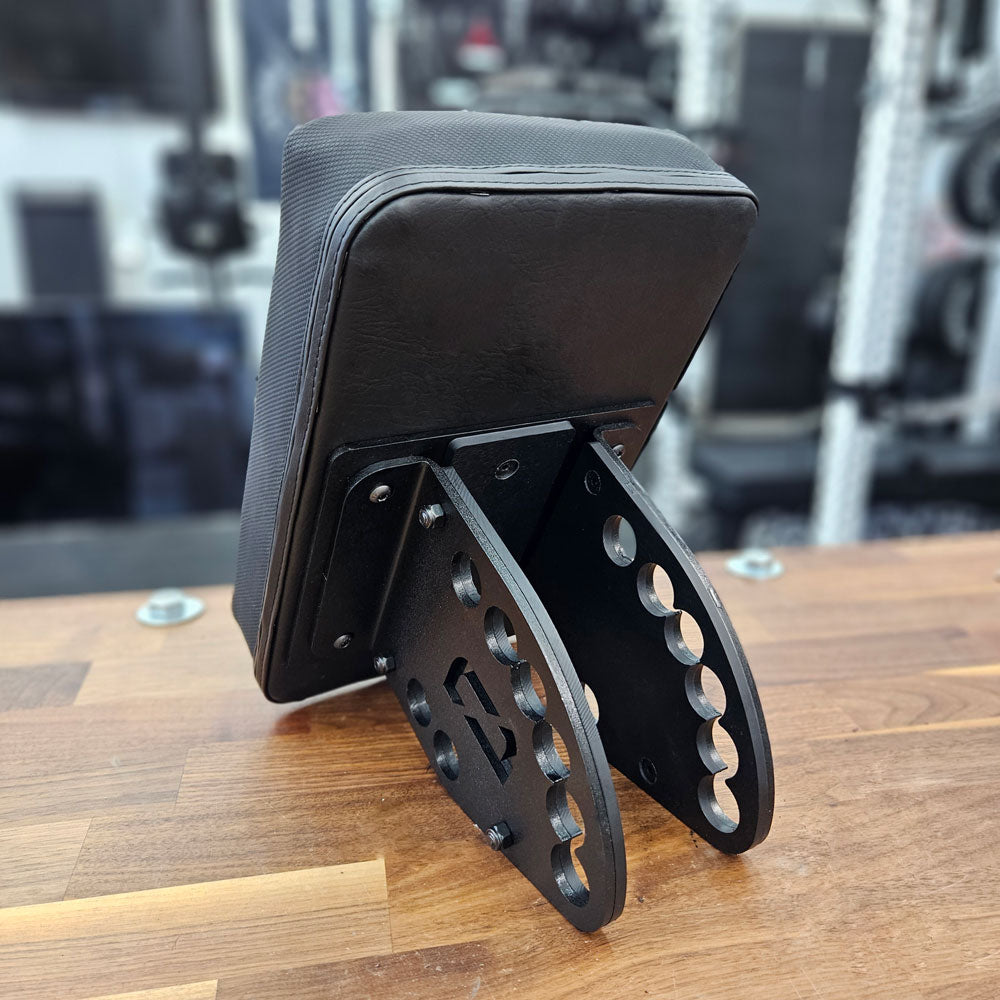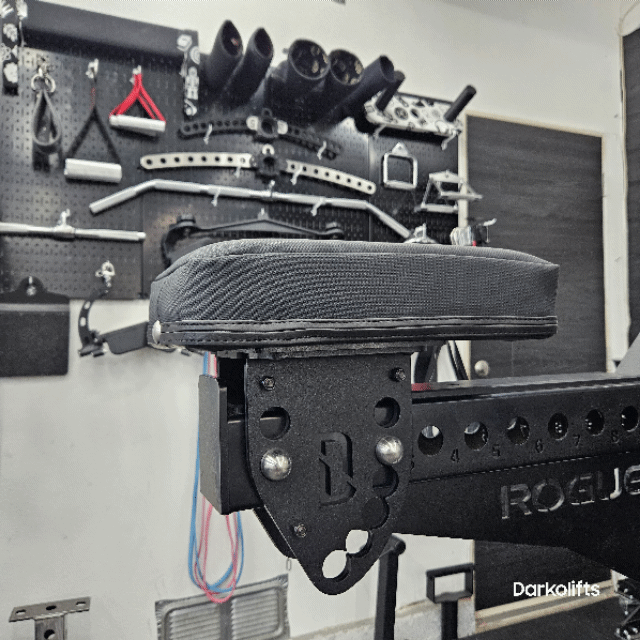 Definitely a Great Buy.
I wanted to use this with my Rouge 2.0 lever arms. Fits perfect and able to angle it even better because of the Vendetta attachment with lever arms. Extremely happy either way purchase. Well built and great quality. I put this a must have if you want to change your game up of home gym accessories.
Well executed
This pad makes chest supported DB row set up easier than ever. I find walking into the pad way better than trying to set up a bench. The pad is far enough away from the upright that your head has plenty of clearance.
It's a well executed idea that adds additional functionality to the spotter arms you probably have already. The pad is very sturdy and has UHMW so I don't have to worry about my rack getting scuffed up.